Private Apartments Tenerife
Holiday homes, villas and apartments in Tenerife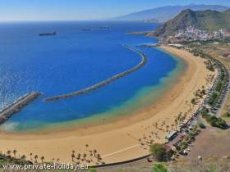 If you wish for a relaxing holiday in Tenerife with superb lodging at a good price, privateHOLIDAY is exactly the right place for you! At privateHOLIDAY you will find many vacation rentals that will make a trip to the biggest of the Canary Islands comfortable for you. From cosy apartments to traditional country houses Tenerife offers to you a wide range of accommodations for a perfect vacation. With the help of our convenient search screen you can refine your search by means of many criterias so that you will easily find your ideal residence. With our 10 years of experience in procurement of holiday houses and holiday flats we will have the perfect summer residence waiting for you!
Holidays in Tenerife in an apartment or a cottage
While you have to keep to fixed times in hotels regarding room service or opening hours of the hotel restaurant, the stay in a holiday house or a holiday flat offers you more flexibility. Special features like multiple bedrooms, a private pool or the beach in striking distance are no problem on the Canaries. For the classic individual holiday a cottage or a spacious holiday flat offers benefits around the vacation planning.
Each day anew you can decide how to spend your vacation with your family, friends or tour group. No matter if you are travelling with two, three or more people – the booked accommodation is individually tailored for your needs. Depending on the accommodation you can choose between a bedroom with additional sofa bed or more bedrooms and, depending on the object, even with multiple bathrooms. Further extras such as a pool, terrace or sauna are often inclusive in Tenerife ensuring a luxurious holiday experience. Now it's time to browse through our huge range of accommodations and to choose the perfect holiday house, apartment or cottage.
Holidays in Tenerife - for every type of holiday the right stay!
Only a few kilometres away from the coast of Morocco Tenerife belongs to Spain and combines nature and culture in an exceptional way. The north of the island is mostly dominated by nature, which is particularly noticeable in the Biosphere Reserve of the Anaga Mountains. One of the most important touristic centers in the north is Puerto de la Cruz which is highly popular with those who enjoy activity holidays. The northern area is especially well-known with hikers and nature lovers, which is why a holiday apartment or house is the ideal accommodation to independently explore the island.
The Teide National Park with its highest point of 3, 718 meters shapes the landscape of the center of Tenerife, while other popular tourist destination like Playas las Americas or Arona can be found in the southwest. They offer countless possibilities for tourist activities, shopping and a vivid nightlife.