Accommodation in Tenerife South
Hotels in Tenerife
We compare prices from all of the leading hotel sites so you can find the best deal for you.
Which area should you stay in?
The island boasts everything from five-star luxury Tenerife hotels to rock-bottom budget accommodation. As a general rule of thumb, if you're looking for the party, head south. Playa de las Américas, Los Cristianos and Costa Adeje all come alive after dark, each in their own unique way.
The north is a different kettle of fish. Quieter and far more traditional, it's a taste of the real Tenerife.
Playa de las Américas is a neon plastic paradise for pint-swilling party-heads looking for bargain booze and banging beats. Packed with cheap Tenerife hotels squished together like sardines, it's the perfect base for a real blow-out. No, it's not pretty, but these days, it's almost a British rite of passage to finish exams, grab a group of mates, get on a plane and party until you want your mum.
You might hate it, but others love it – so even Playa has its place. If you're after a cheap hotel in Tenerife and a week-long rampage, it's a winner.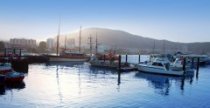 Calmer and a tad more upmarket than Playa de las Américas yet still within a stone's throw of the party, Los Cristianos is a great compromise, especially for families with late teens in tow and those looking for mid-range Tenerife accommodation.
The atmospheric cobbled streets and al-fresco cafes give it a more authentic Canarian flavour, while its glossy shopping malls supply modern convenience and the chance for a cheeky shopping spree. Attracting a feel-good crowd that has outgrown the antics of neighbouring Playa, it's a scene of ever-so-slightly more responsible fun.
Looking for glitz and glam?
Costa Adeje is like the rich lottery-winning cousin of Playa and Los Cristianos – glitzy, glam and dripping with wealth.
Think spa treatments, designer shades, Ibiza-style sunset bars and swarms of beautiful people. Popular with the Beckhams, it's the place to see and be seen in the winter sunshine. If you're looking to lounge around like an A-lister in a luxury Tenerife hotel, this is the spot for you.
Naturally, more exclusive means more expensive – the area is mostly home to four-star hotels and five-star hotels – but Costa Adeje is certain to add a touch of class to your Tenerife holiday. With two water parks nearby, it's also a fantastic place to look for family hotels in Tenerife.

Looking for a boho surf spot on a budget?
If you're on a modest budget and looking to dodge mass tourism, El Médano is surfer central, where dreadlocks sway in the sea breeze and free spirits sunbathe in the buff. It's a gentle, bohemian spot that is becoming increasingly popular with independent travellers and young families.
Hosting all kinds of windsurfing and kitesurfing competitions, El Médano is a wave-riding mecca with plenty of affordable three-star Tenerife hotels. Just be warned – when the winter trade winds get up, it can feel like you're taking a holiday inside a hairdryer.
Local character can feel buried under full English breakfasts and tacky sombreros in the south, so if you're after the real Tenerife, head north.
Puerto de la Cruz might be the largest resort on the top half of the island, but it's firmly Canarian in flavour and a brilliant base for exploring traditional Tenerife. You'll find al-fresco cafes, authentic cuisine, shady plazas and fishing boats bobbing in the harbour, with plenty of upmarket shopping to boot.