Tenerife B&B
Recent Reviews in Tenerife, Spain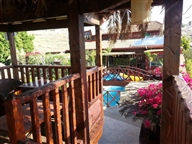 charming moments
It was a pleasure staying at la casa del floras. The location is fabulous, away from the noise of the center, in a quite and green area. The pool offers charming moments, as well as the breakfast...prepared with loved! Thanks Irene, it was fantastic.
Splendifa accoglienza
Ci siamo trovati benissimo a Casa Giuliana: ambiente accogliente e trattamento caloroso. La cucina poi è veramente eccezionale. Un grazie a Giuliana e Piero e un arrivederci a presto!
Carinissimo
Siamo stati molto bene, accoglienza e colazione meravigliosa! Le camere molto belle e pulite. Pochi passi per arrivare al mare (circa 15 minuti a piedi), bellissima piscina al interno del complesso tranquillo in mezzo al verde. Rapporto qualità prezzo ottimo. Irene e' una persona molto ospitale che da subito ci ha messo a nostro agio! Torneremo senz altro in questo carinissimo posto!!
grand Hotel mama guiliana
Familienurlaub mit 2 Jungs( 2 und 6 Jahre) für 14 Tage im Mai haben wir uns herzlich mütterlich verwöhnen lassen. Ruhige Lage und abseits vom Touristen Trubel. Sehr kinderfreundlich mit Spielplatz und eingezäuntem grossen Grundstück. Unsere deutschen Frühstücks Gewohnheiten und die der Kinder wurden super erfüllt. Als gemeinsame Sprache stand uns die Körper Sprache zur verfugung, sowie der gang in die Küche und kleine Teile diverser sprachen.;) das führte zu viel Fröhlichkeit UD gemeinsamen lachen! Der Sohn des Hauses spricht eng., der war aber nicht vor Ort. Vielen dank auch für das waschen der kleidung und den super zimmer service!Für uns ein perfekter Urlaub herzlichen dank giuliana und pierro! Wir kommen wieder!
Fantastic Holiday.
A very welcome greeting in the mornings with fresh fruit, Greek yogurt, hot croissants with cheese, homemade granola packed with nuts, raisins etc. just a few of the delicous dishes we were offered. Lovely room, Lovely food, Lovely house, Lovely gardens, lovely complex. highly reccommended.
lovely place for a really relaxing break
We stayed with Irene for the first week of Jan this year.Irene was very good at providing everything we needed for a lovely & relaxing holiday, nothing was too much trouble.The bedrooms were lovely, clean & comfortable.The pool area was immaculate.We would'nt hesitate stay there again.
Beware!
Beware of this Bed and Breakfast! Irene complained about having to get up to make breakfast for us and this is advertised as a bed and breakfast! Irene did not tell us that we needed to bring cash to pay the rest of the bill. Since we stay at bed and breakfasts a lot, many owners tell us upfront to bring cash because they do not have credit card machines (some do have these machines, and we did not know Irene's situation). However, on the second morning, Irene had not started breakfast and would not even let me get water in the kitchen until I paid the whole bill in cash. I told her I would be happy to go to the local bank, but that I do not normally carry large amounts of cash on me when traveling. Also, she is not zoned to offer breakfast so she told us not to tell the people at the pool that we received breakfast from her.
Ein wundervoller Platz um zu Relaxen - A wonderful place to relax !
Ein perfekter Platz um Erholung zu haben. Ruhe und Genuss. Jeden Morgen kommt nach Absprache mit der Hausdame höchstpersönlich ein gutes Frühstück. Die Sonne scheint und die Ruhe in diesem Arenal kommt ausgezeichnet zur Geltung. Der ganze Poolbereich scheint wie für Einen höchstpersönlich. Sauber, Luxuriös und in sofortiger Nähe des schönsten Bereiches im Süden Tenerifes. Absolut Top und komme sehr gerne wieder. A perfect place to rest to have. Peace and pleasure. Every morning comes after consultation with the Executive Housekeeper himself a good breakfast. The sun is shining and the rest in this Arenal is excellent advantage. The whole pool area seems like for a highly personal. Clean, Luxurious and in immediate proximity of the most beautiful area in the south of Tenerife. Absolutely top and I'm very happy again.
15 jours de vacances à la "Casa Giuliana" à Charco del Pino Tenerife
Noius souhaiterions, à travers ce petit courriel, remercier "Giuliana et Pietro" qui ont été à nos petit soins durant les 15 jours pleins de notre séjour à Tenerife du 8 au 23 mars. (Patrick & Dolly). Came, repas italiens excellents, cadre verdoyant, bonne humeur, enfin tout ce qu'il faut pour passer quinze jours de détente. A recommander à tous ceux qui souhaitent la tranquilité à seulement 15 minutes des plages.
what shows are on paramount plus
what does bbc mean on tik tok
what does matrix mean
How to clean kitchen cabinets
what does scalable mean
How to talk to anyone92 little tricks for big success in relationships
How to add bots to discord server?
How to make wire tree tips site:youtube.com
Sims 4 how to make tips
Youtube how to train your cat to do tricks
How to not be constipated
what does oruguitas mean
what does white blood cells in urine mean
How to speak
How to get social security card?
How to make computer in little alchemy
How much to rent an rv?
How to cancel zelle payment
Tips on how to be good on top in bed
what are all the branches of the military
Tips on how to be a good narator
what does wsg mean
what does troglodyte mean
How to read ruler?
what does asystole mean
Minecraft how to build and mine starting tips and tricks for beginners
what are backrooms
How to draw a gorilla?
What color tips to use for desired outcome
what does value mean in excel
How to shave your legs
How to book writing tips
Tips for flying when sick
How to make nails stronger?
How to cook ribeye?
what does clutch mean
How to suture?
How long does caulk take to dry
Whatsapp tricks who viewed me iphone
what does gen x mean
what does vertices mean
what does penetrate mean
what does fully unlocked phone mean
How to make roti
How to make shrimp tacos?
How to find the volume
How to lose a guy in 10 days streaming
What are the best networking tips
what does mid to late february mean
Tips on how to train an aggresive dog
what does immigration mean
How to make my stomach stop hurting?
what is mlm mean
what are grits
what does the cowboy emoji mean
Why do the tips of my fingers and toes
How to move a window that is off screen?
How to fill out an application tips
Tips when going to disney world
what does bear scat look like
How to get rid of a mole?
what does loc mean
What is the round wood burner tips for
Attack on titan how to fix tips to show keyboard buttons
How to play checkers
How to pronounce vulnerable
How to cook zucchini noodles
what does lure mean
what does magistrate mean
How to cure a cold?
How to get someone to like you
Drywall tricks where walls dont match
How do people react to mind tricks
How to find the range of a function
what does it mean when you keep seeing 444
How to pin someone on snapchat?
How to change spotify username
How long does it take to cook a turkey?
what does peg mean in social media
When i was just a kid i dreamt that one day wed all get rich no more problems no more tricks
what does nothing look like
what does ciusism mean
what does eugenics mean
How to build a good skateboard for tricks
what does self righteous mean
How to treat gout
How much does pj tips cost?
How to remove instagram account
How to make dressing?
How to write an address
Tips and tricks when working with ubuntu
what does it mean when your engine light comes on
what does erica mean
what does lbs mean in weight
what does a blister look like
How to fix chapped lips?
How to cook oysters?
How to wear a scarf men
what are the signs of pregnancy
How to teach your staffordshire bull or pit bull tricks